Wo das Licht stirbt
Berlin, 2015
Gold leaf Terrace of the Neue Nationalgalerie, Berlin, Germany
Project: Sundowner

Throughout 2015 and 2016 the building of the Neue Nationalgalerie of Berlin was closed to the public, to carry out the refurbishment work that was completed in 2021. Modern buildings need to be renovated too. At the moment and in this context the Sundowner project came to light, led by a group of artists and curators who, with permission, got together on the terrace on Tuesdays of every month. The activity consisted in inviting artists from Berlin to organize an event or a short-term ephemeral installation to celebrate the sunset together. In September 2015 this group invited me to take part, to be precise on the 22nd; I only had three hours to react. It was the end of the summer and I wanted to work with the sunlight. The installation Wo das Licht stirbt (Where the Light Dies) unfolds into two interventions: Sonnenheiligtum (The Sanctuary of the Sun) and Der goldene Horizont (The Golden Horizon). The are two rituals to say farewell to the summer.


The first consists of a gold leaf drawing of a circle on the ground, and the other one of a horizon line drawn with Urushi thread, tied between two of the columns of the building The two interventions were created to reflect the sunlight, although I do think that what I wanted to do the most was to be able to touch the ground and the columns of a place of architectural worship for the city. In this project, I learned how important it is t seize the moment. The intermediate stage between the closure and the refurbishment work was a unique and special time.
From that year on, and until 2021, the Mies van der Rohe building became an inaccessible place. The word ZU (closed), was written on the windowpanes of the building in enormous letters. The building was closed for almost six years, which meant that one of the most important temples of modern and contemporary art in Berlin was shut. Recently I went to visit the exhibition of Alexander Calder. As I wandered around the terrace again I thought that, for a short space of time, that place had also been mine.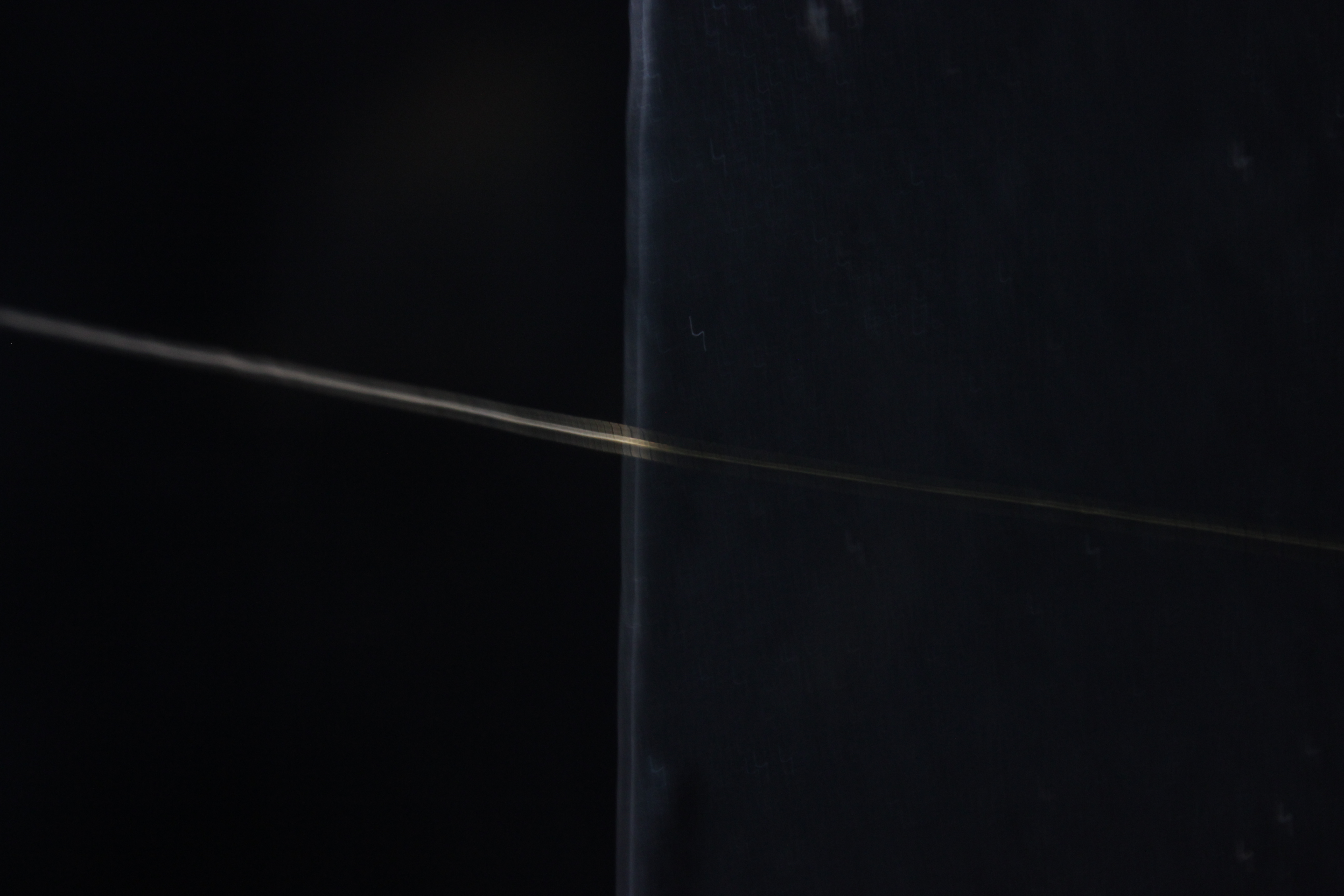 Sonnenheiligtum (The Sanctuary of the Sun)
Der goldene Horizont (The Golden Horizon)



Process